Are you a Boston Terrier owner or fan? If so, then you might like Destei's Boston Terrier dog breed illustrations. This breed comes in six coat colors and they are all available on all kinds of fun products such as T-shirts and leggings, home decor products including pillows, blankets and shower curtains, stationery items such as notebooks, notepads and pens. There are even personalizable pet bowls, ID-tags, collars, leashes and dog beds available for the pups themselves.
This post contains affiliate links which means that Destei may receive referral commission, if you make a purchase from such link.
Boston Terrier Clothing
Celebrate your love towards the Boston Terrier dog breed by wearing cute Boston Terrier dog breed design apparel. Match the T-shirts and hoodies with adorable Boston Terrier design leggings and hats to complete the look. Get an outfit for a true Boston Terrier lover!
Shop Boston Terrier Design Clothing From Zazzle
Boston Terrier Accessories
In need of a tote bag for your groceries or other belongings? Consider a cute Boston Terrier design tote bag. You can choose from different kind of bag and design styles. The accessory section also includes keychains, wrist watches, passport covers and neck ties all featuring adorable Boston Terrier artwork.
Shop Boston Terrier Design Accessories From Zazzle
Boston Terrier Home Decor
You can find these cute Boston Terrier dog designs on a variety of home decor products as well. Shop adorable Boston Terrier pillows for your couch or outdoor patio, throw a Boston Terrier fleece blanket over your couch and use it to cozy up during a chilly day or decorate your bedroom with Boston Terrier duvet and pillow covers. For the bathroom you can find Boston Terrier design shower curtains and bath mats. There are even ornaments and Christmas stockings available for the festive season.
Shop Boston Terrier Design Home Decor From Zazzle
Boston Terrier Pet Supplies
Looking to pamper your pup? Check out cute Boston Terrier pet supplies including food and water bowls, pet ID-tags, dog beds and more. Choose a product with a text template and personalize it with the name of your own dog. So cute, personal and practical!
Shop Boston Terrier Design Pet Supplies From Zazzle
Make It Personal
Many of the products available in Zazzle are personalizable. Such items have a text template on them that is easy to personalize with your own name, your pet's name or your child's name, for example.
About The Design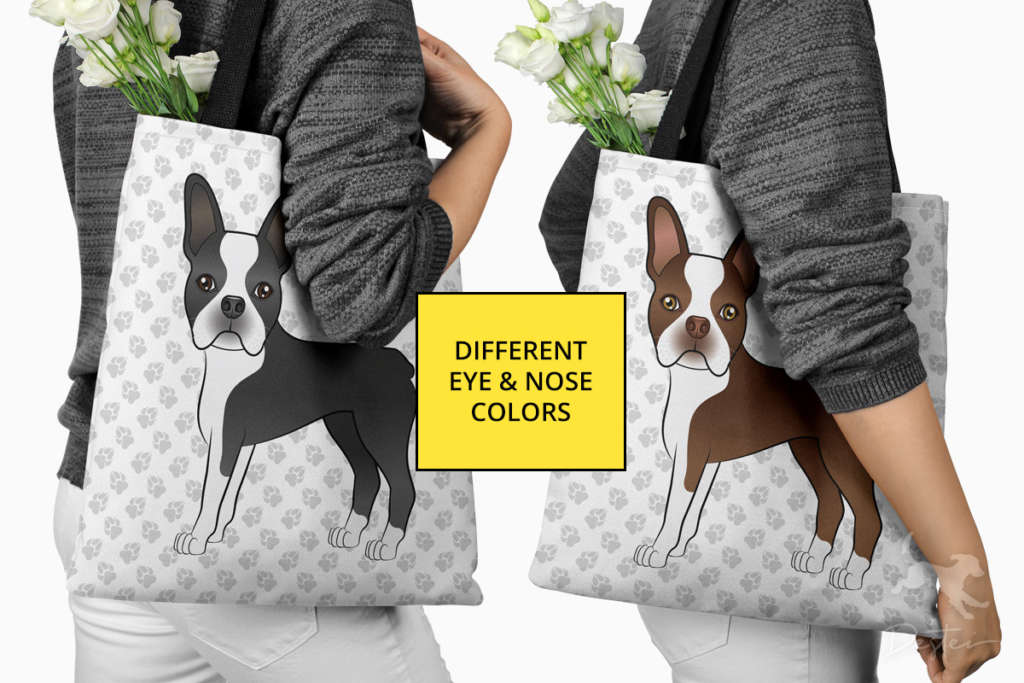 Destei's cartoon illustration of a Boston Terrier dog breed features a cute dog standing and looking towards the viewer. The dog has a pleasant face expression. The ears are big and pricked up while the eyes are rather large in size. The tail is really short. The legs are rather long and thin mimicking the look of a Boston Terrier in reality while keeping the cartoon look to them.
This design comes in six different coat color options:
Besides the coat colors being different, there are also differences in the dog's eye and nose colors as well. For example, the black Boston Terrier has a lot darker pupils than the chocolate one. The black Boston Terrier also has a black nose while the chocolate one has more of a brown / red nose. Each color was carefully designed to match their real life counterpart as well as possible.
To me Boston Terriers look a lot like French Bulldogs, so I put a lot of effort in the overall shape of the dog to try and distinguish it from Frenchies. For example, I find that Boston Terriers are a bit more slender looking than French Bulldogs. I also focused on the dog's nose and nostrils as they look different to me than on non-short muzzled dogs. Also as I mentioned above, I payed a lot of attention to the different eye and nose colors between each dog to try and capture the breed and its color variations as well as I could.
A Warm Thank You
I want to thank all customers who has bought my previous Boston Terrier art on any of the available products. It means a lot to me when you support my work, so again, thank you. I hope you all will like these new illustrations as much as you have the old one.
Summary
A new Boston Terrier illustration has arrived in several different coat colors for Boston Terrier fans and owners. The designs are available on all kinds of merchandise such as T-shirts, leggings, mugs, bags, pillows, notebooks, stickers, phone cases and more.
Whether you are a Boston Terrier owner or you just simply love the breed, welcome to visit Destei on Zazzle to make cute Boston Terrier finds.
Shop Link: Shop On Zazzle