Hundreds of new Cavalier King Charles Spaniel dog design products now available!
Do you like the adorable Cavalier King Charles Spaniel dog breed? You can now find Destei's new Cavalier King Charles Spaniel dog breed illustrations on hundreds of different kind of products. That means there are cute Cavalier design clothing items, pet supplies, home decor products and many more fun product types available. Just look at the list below of all the great items you can find the designs on.
This post contains affiliate links which means that Destei may receive referral commission, if you make a purchase from such link.
Four dog colors and hundreds of products to choose from
Apparel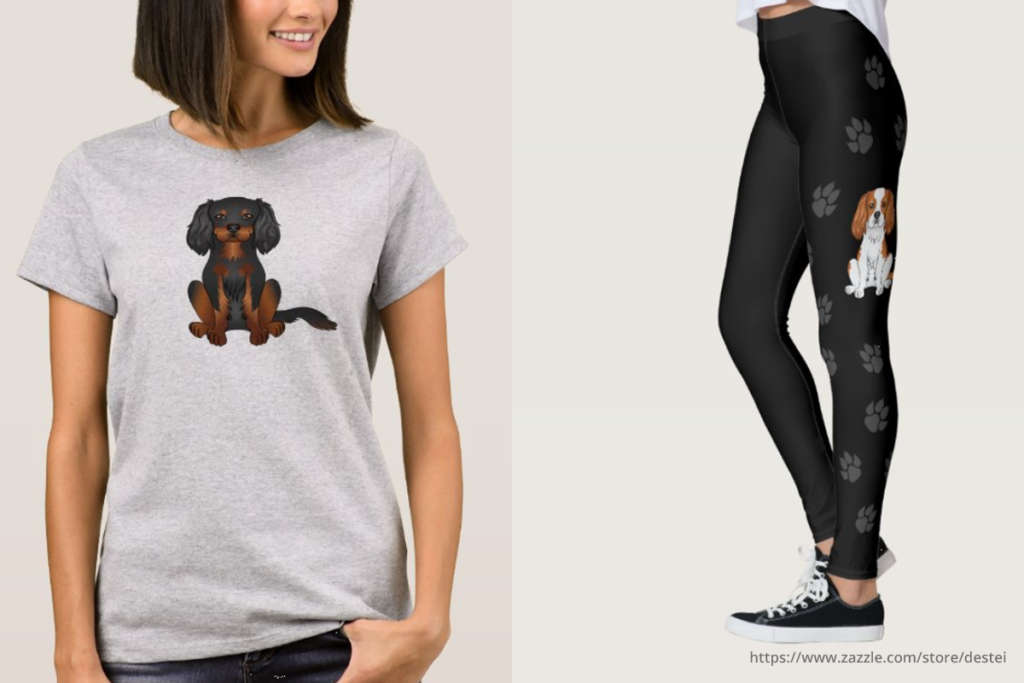 Shop cute Cavalier King Charles Spaniel dog designs on T-shirts, hoodies, leggings, capri leggings and more! Cavalier design clothes available for the whole family! Wear a cute Cavalier dog illustration T-shirt to easily express your love towards the breed, walk your dog while wearing adorable Cavalier design leggings or cozy up in a Cavalier design hoodie on a chilly day.
Shop Cavalier King Charles Spaniel Design Apparel From Zazzle
Accessories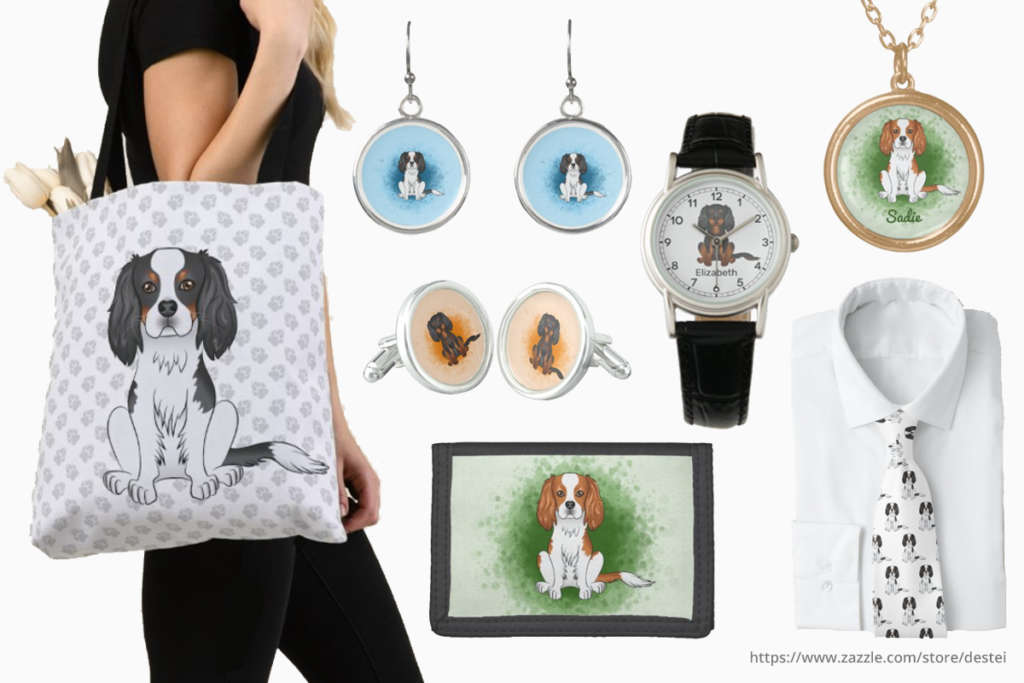 Carry your groceries home in a cute Cavalier design tote bag or backpack, accessorize with Cavalier King Charles Spaniel design earrings, bracelets and necklaces, keep track of time by wearing a cute Cavalier design wrist watch or organize your keys with the help of cute Cavalier dog design keychains.
Shop Cavalier King Charles Spaniel Design Accessories From Zazzle
Home Decor And Kitchen Supplies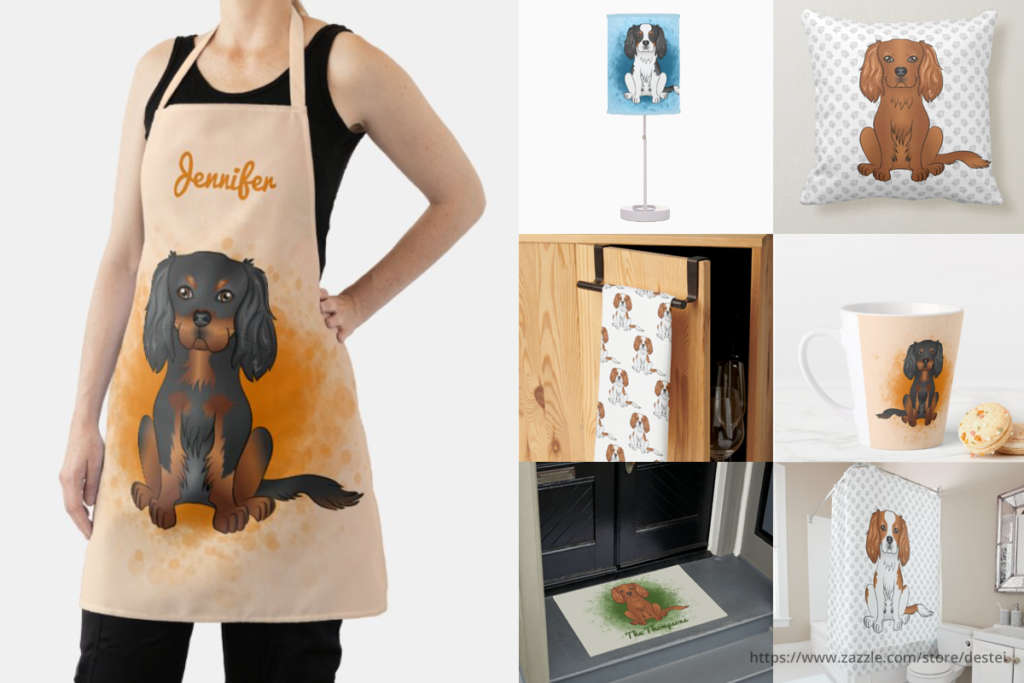 Express your love towards the Cavalier dog breed through the way your home is decorated. Throw a cute Cavalier dog design pillow or blanket on your couch, add a Cavalier dog breed pattern kitchen towel in your kitchen or place a fun Cavalier shower curtain or towel in your bathroom. You can also find Cavalier King Charles dog breed duvet covers and pillow cases for your bedroom. If you are looking to decorate your walls, you will probably like Destei's Cavalier posters and faux canvas prints as well. Welcome your guests with a cute Cavalier King Charles Spaniel door mat that is personalized with your family name or other custom text.
Shop Cavalier King Charles Spaniel Design Home Decor And Kitchen Supplies From Zazzle
Office Supplies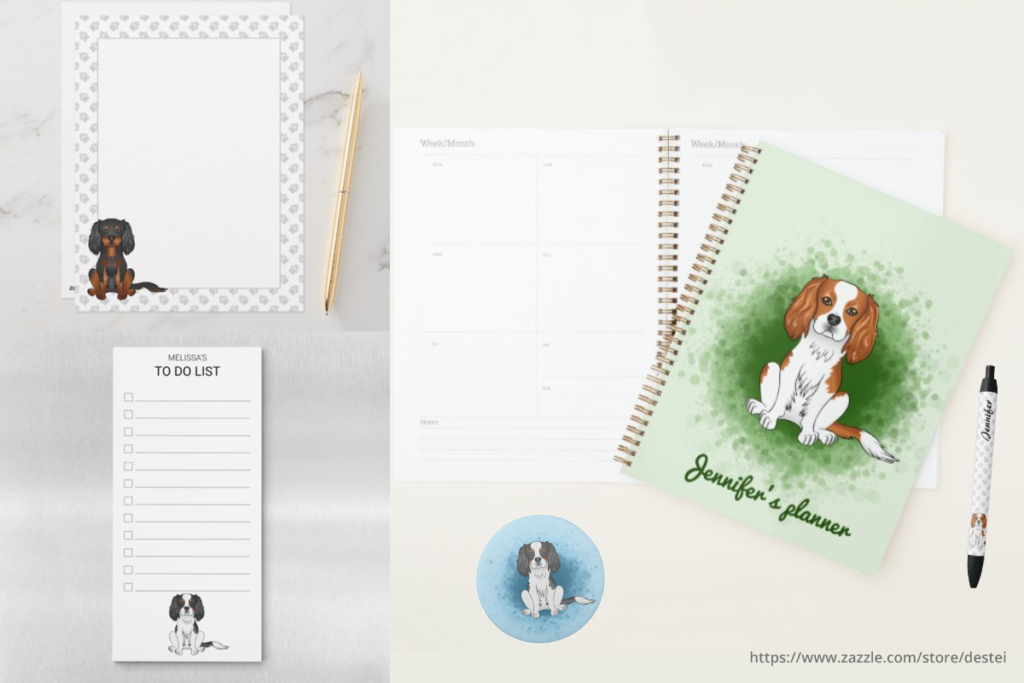 A Cavalier King Charles Spaniel lover will be happy to discover that there are a bunch of fun Cavalier design office supplies now available. Find cute Cavalier notebooks, notepads, stickers, pens, pencils, erasers and letterhead for your office needs. Writing down your grocery lists and To Do- lists will be much more fun in a cute Cavalier notepad than on a blank piece of paper.
Shop Cavalier King Charles Spaniel Design Office Supplies From Zazzle
Shop Cavalier King Charles Spaniel Design Stationery Supplies From Zazzle
Shop Cavalier King Charles Spaniel Stickers From Zazzle
Pet Supplies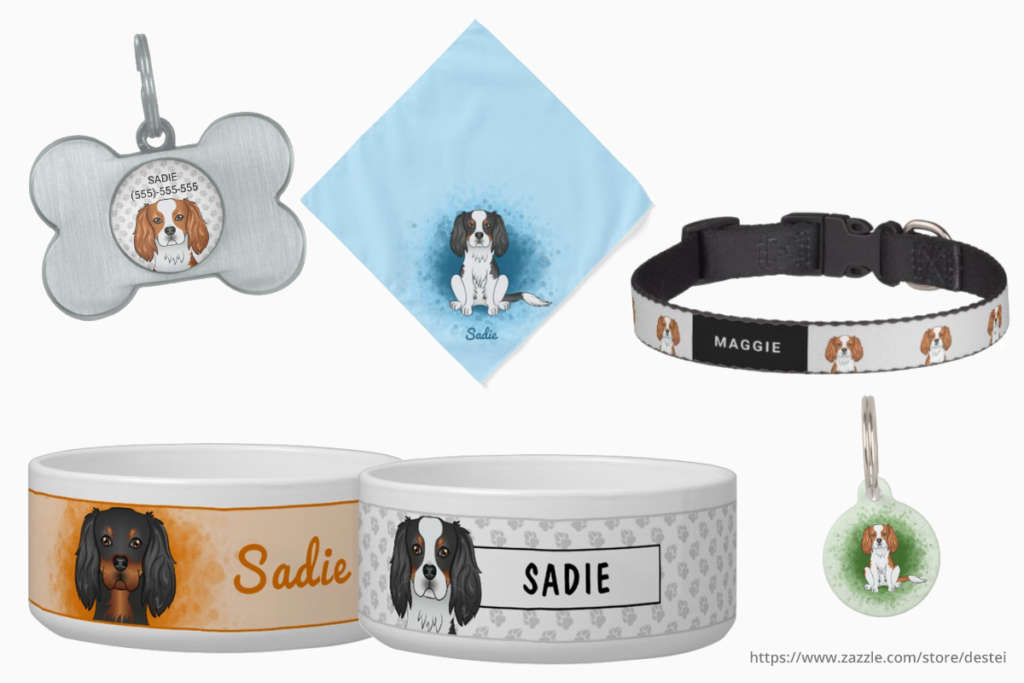 Is your pet in need of some new gear? Check out Destei's Zazzle store for some cute and personalizable Cavalier King Charles design dog beds, food and water bowls, pet identity tags and more! Many of the products have a personalizable text area for your pet's very own name, so you can make the item that much more personal and special to you and your pup!
Shop Cavalier King Charles Spaniel Design Pet Supplies From Zazzle
And Even More Products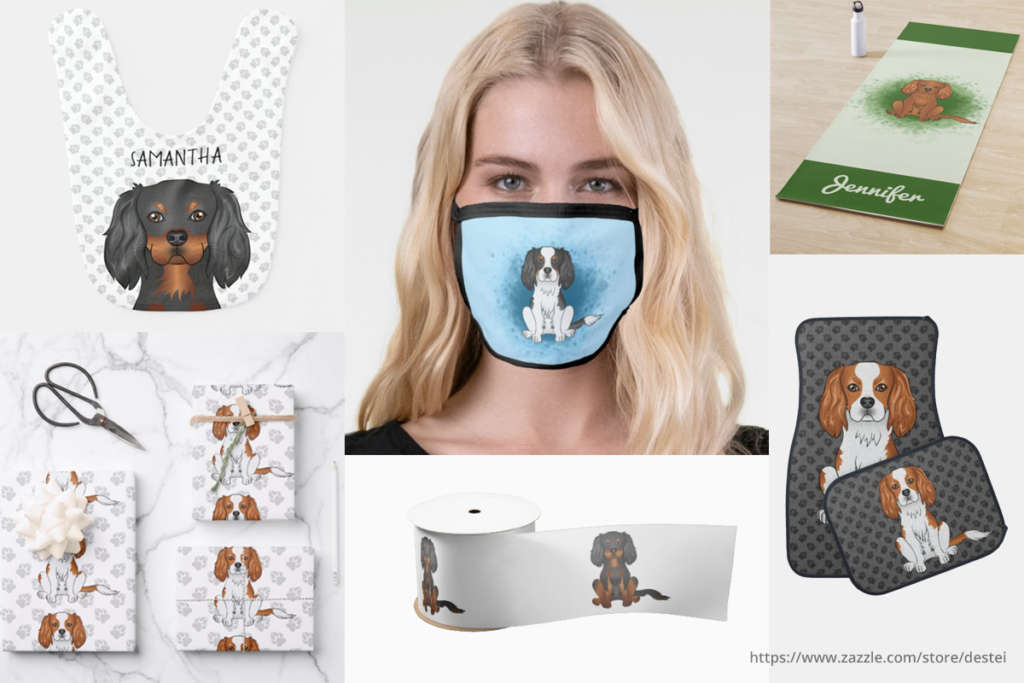 Besides the already mentioned product categories, you can find even more products with Destei's cute Cavalier King Charles dog breed illustrations. Shop phone cases, baby blankets, pacifiers, laptop sleeves, yard signs, wrapping paper, ribbon, yoga mats and so much more featuring Destei's cute Cavalier dog illustrations.
Shop ALL Cavalier King Charles Spaniel Design Products From Zazzle
Make It Personal
Many of the Zazzle products have a personalizable text area on them. This allows for customers to be able to easily write their own text on the item. Personalize the products and make them truly special and unique just for you.
About The Design
Destei's Cavalier King Charles Spaniel dog illustration features a cute dog sitting and looking towards the viewer with a happy face expression. The dog has long hanging ears, the eyes are big and brown and the fluffy tail lies to the side of the dog. The design is available in four different colors typical for the breed. These colors are blenheim which is a brown and white color combination, then there is a black and tan version where the black color fur has some tan markings on the dog's face and body, thirdly there is the tricolor version which includes a white base color that has black and tan details and lastly there is the all brown color called ruby. This selection of colors is a great way for customers to find the design that most resembles their own dog or the kind of Cavalier dog breed color they like the best.
The designs have different kind of background colors and settings available depending on the product. You will be able to find the dogs on gray paw print backgrounds, fun color splash backgrounds and even as a pattern or as a large close-up of the dog's head. There are also a few products that feature a cute cartoon girl illustration next to the dog.
I had a lot of fun designing these particular dog illustrations. It was the first time I have drawn a dog breed sitting down rather than standing up. I really felt like it was time to try something new and this is how it turned out. This dog illustration is also much more detailed than some of my previous breeds which you might notice in the dog's face area especially. I put a lot of attention to the coat colors and how the markings on the dogs appear as well.
I hope you Cavalier King Charles Spaniel people like these new dog designs and the fun color splash background additions as well.
Summary
Whether you are looking for cute Cavalier King Charles Spaniel dog breed design products for yourself or for someone you know, welcome to browse around and make finds! As you can see from this long blog post, there are a lot of cute items to be discovered for Cavalier King Charles Spaniel owners and lovers. Hop over to the Zazzle shop now and start shopping!
Shop ALL Cavalier King Charles Spaniel Design Products From Zazzle
This article was originally posted in my old blog on May 25th, 2021